This guide reviews how one may easily structure email addresses and other data that has been attached to receivers in Excel. (The example is presented in Excel for Mac 2008 but the mechanisms are the same as in Excel for Windows).
The guide exemplifies how to divide data from a column to several columns, i.e. "Name" is to be divided to "First name" in one column and "Last name" in another columns. The same goes if one wishes to unite two columns into one, i.e. "First name" and "Last name" is in two different columns and one wish to unite them into the column "Name"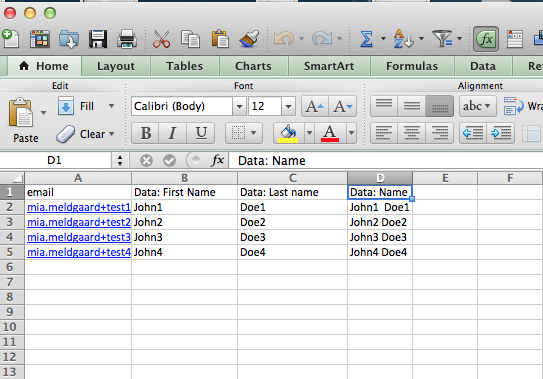 Example 1: First name and last name are united into one column
We have data in two columns (B and C) and wish to unite it into one cell (D) thus leaving first name and last name in the same column.

Mark cell D2 and type the information you see below.

The two columns are now united into one. The data is now a form and not a value.

This can be solved by copying the area with the new data and then right click with the mouse and chose "Paste special" in the column that is on the right side of our data.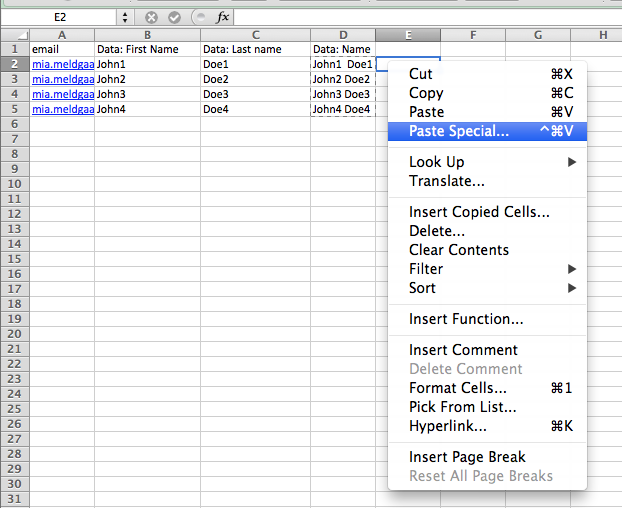 Mark 'Values' and chose 'Ok'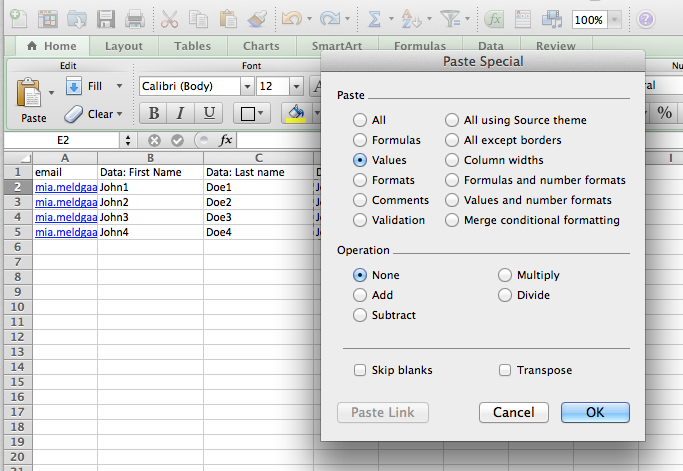 The data has now been copied to column E and has been inserted as values instead of a form.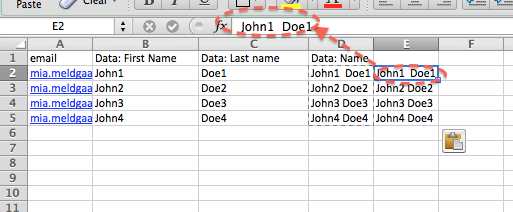 Now delete column D that contained names as forms.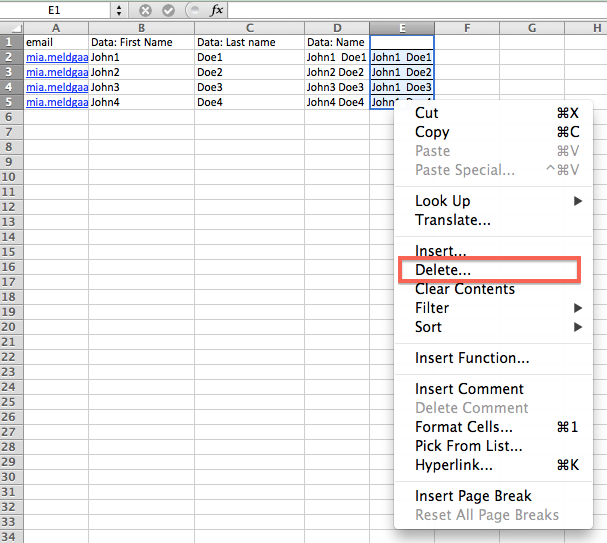 You are now ready to import your data to Ubivox.
Remember data fields
You should remember to set up data fields in Ubivox. See this guide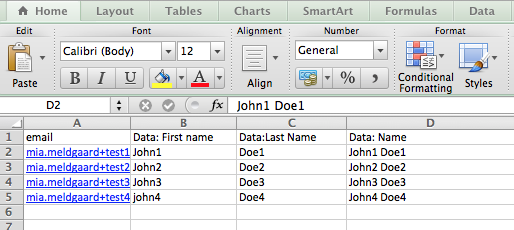 Example 2: A name needs to be divided into two columns, i.e. first name and last name
We will now divide cell B to the two columns C & D. This enables us to import first name and last name in separate columns.

Mark the content in cell B. Go to the menu and chose "Data" -> "Text to columns...".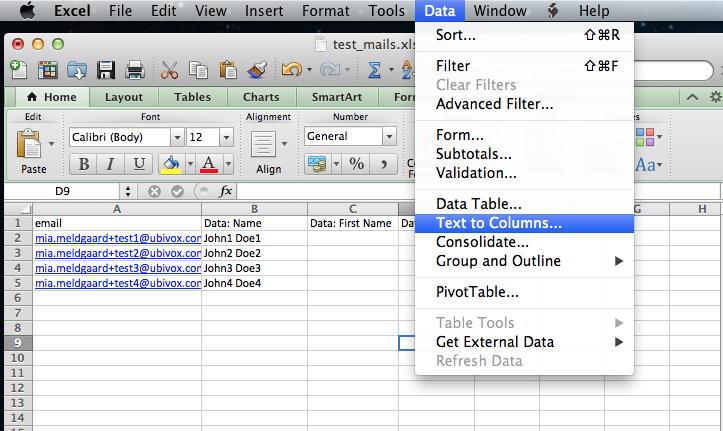 Chose "Delimited" and click "Next"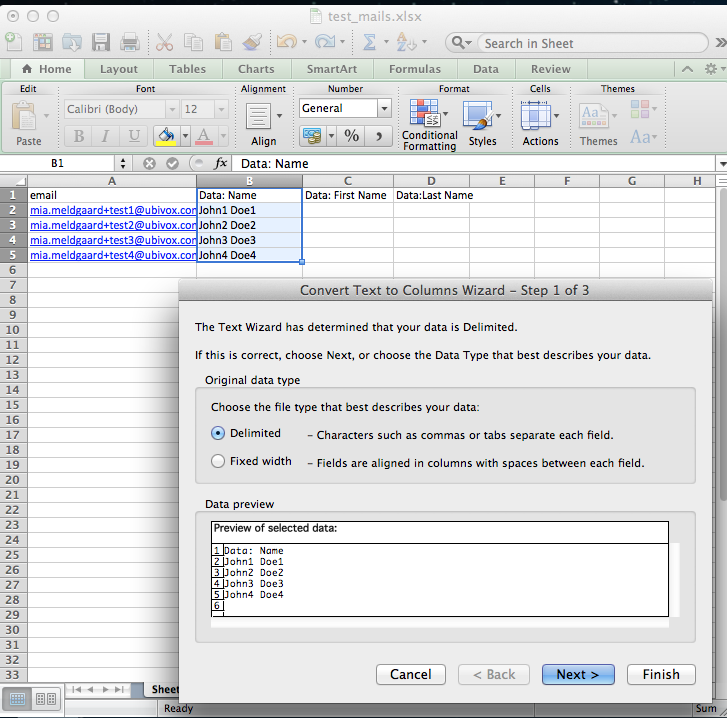 Chose which column the data should ve copied to, in this instance C2 and click "Finish",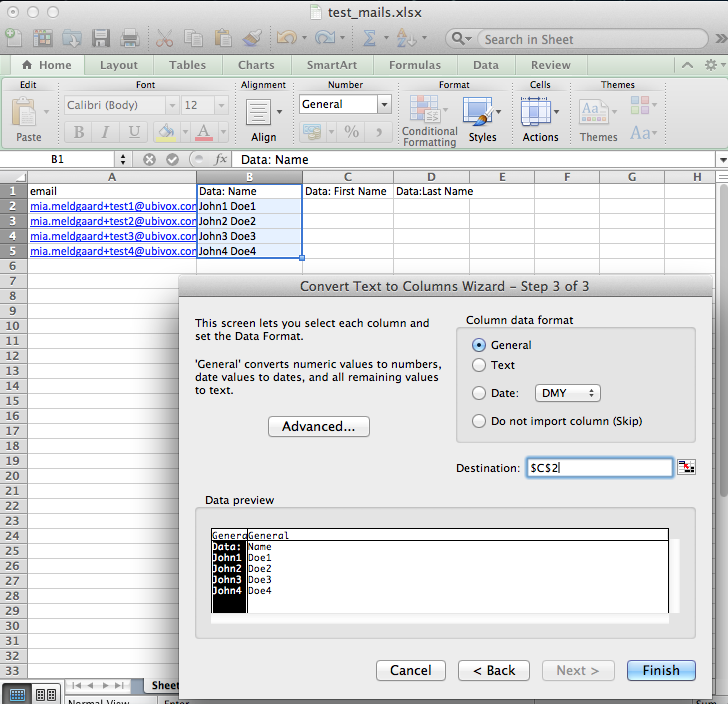 The data has now been copied into 2 columns instead of 1 and is now ready to be imported to Ubivox. Read more about importing data fields in this guide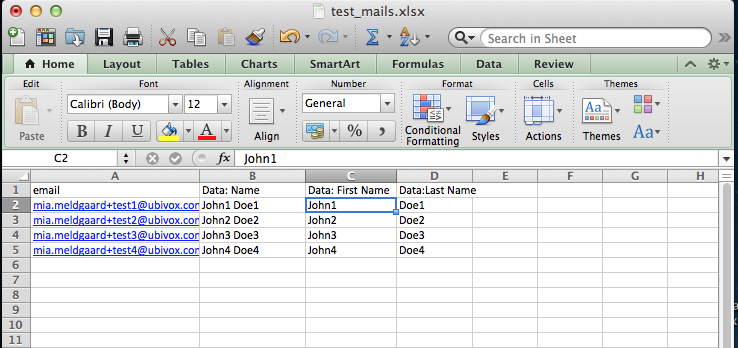 If there are, for example, more values in the cells than 2, one can combine the two elaborated methods until one gets the wanted combination of first names and last names.